I missed watching Star Wars: The Force Awakens (2015) in the cinema last year. I was a little skeptical due to the love story premise of Episode I and II which didn't really appeal to me. I wanted action, dammit! not some dopey looks from Hayden Christensen. He's Darth Vader for goodness sake. Episode I was still alright but Episode II was just overboard.
Even Natalie Portman wanted some action
Then recently fans started raving about Rogue One and J announced she had just gotten free tickets so I thought if I were to watch this movie in the cinema, I'd better catch up with Star Wars: The Force Awakens (2015). I need not have worried, though, as the two stories were not directly related.
Conveniently, I managed to catch The Force Awakens on Astro a day before we were due to go to the cinema so yay! All caught up! I loved how we get to see Hans Solo, Chewbacca and Princess Leia reunited.
Before I start gushing about Rogue One (it totally rocks!), let's talk about One Utama's Indulge Cinema. As much as I love watching films, I hardly go to the cinema. I've never been to a Gold Class Cinema where people feel at home with blankets and stuff so I got really excited when J's tickets were for the Indulge Cinema where I get to feel at home with blankets and stuff! (Thanks, J&J!)
Designed to be more than just a cinema, TGV unveiled INDULGE, the first luxury cinema in 1 Utama, home to two exclusive cinema halls fitted with reclining chairs, comforter blankets and personalised call-waiter-service that can accommodate 32 and 40 guests respectively. INDULGE aims to transcend the borders of ordinary cinema and take the discerning movie goer to a world where imagination meets luxury and style. It definitely succeeded!
I mean I'm sure some of you guys are like "ho-hum, I go there every weekend" but it's a first for me! Despite the tickets being a whopping RM45 (RM70 includes a set meal), we still had to purchase popcorn and drinks separately. We're really paying for the privacy, reclining chairs and blankets.
Check out the photos below:
Happy Film Watchers at the TGV Indulge Main Lounge
The TGV Indulge Cinema waiting area directly outside the cinema
Photobombed by a Storm Trooper!
So let's get back to the movie. What I loved about it was that it was full of action from beginning to end. The film introduces a new character Jyn Erso, a Rebellion soldier and criminal whose father (Galen Erso played by Mads Mikkelsen of Hannibal) is forced to build a deadly weapon for the Dark Side, the Death Star, when the evil Orson Krennic takes him away from his beloved family when she was still a young child.
Captain Orson Krennic and team ready to whisk Galen Erso away
K-2S0, an android, adds humour to the mostly serious storyline.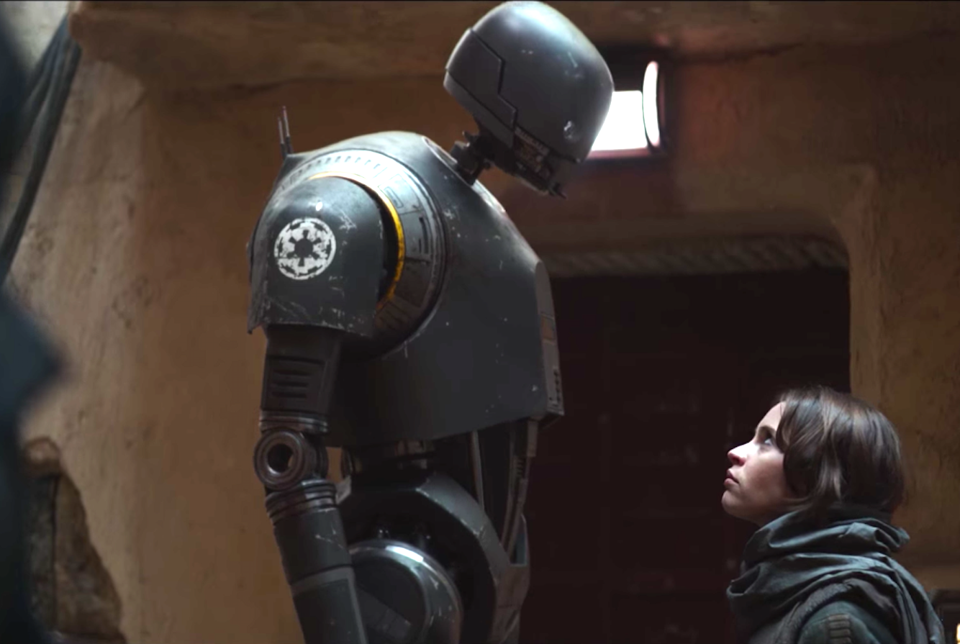 With help from the Rebels, a master swordsman, and non-allied forces, Jyn sets out on a mission to steal the plans for the Death Star.
Darth Vader resumes his menacing (and ultra cool) role but moves with such great heaviness that could be the cause of the Death Star being destroyed, me thinks. I won't reveal much more about what this means but like really, with his power, he could have used his mind to end things quickly!
With regards to the characters, I found them well developed and added an interesting element to the story. Felicity Jones who plays the leading actress is a fresh face to watch. She delivers her lines with ease and has the attention pulling power comparable to Natalie Portman's. Her pep talk scene before heading out to steal the plans was a bit much (reminded me of Mia Wasikowska's pep talk in Alice in Wonderland) but other than that, her performance was rock solid.
Diego Luna plays the role of Captain Cassian Andor, an accomplished Alliance Intelligence officer with combat field experience. He commands respect from his Rebel troops with his ability to keep a cool head under fire and complete his missions with minimal resources. Sent to kill Jyn's father in disguise of helping Jyn find her father, he later has a change of heart when a fight breaks out between Orson Krennic and Erso.
Other notable characters are Forest Whitaker who plays the role of Saw Gerrera, the rebel who helped bring up Jyn for a few years before disappearing, (This is the first time I see him with hair!), Donnie Yen, who plays a blind spiritual warrior-monk who has utmost faith with The Force and his buddy and protector Baze Malbus played by Wen Jiang (check out how he really looks like in real life!).
In terms of baddies, besides my favourite Darth Vader, Ben Mendelsohn played the convincing baddie role Orson Krennic, director of Advanced Weapons Research for the Imperial military. He is obsessed with the completion of the long-delayed Death Star project (because his life depends on it!).
Rogue One: A Star Wars Story has been released in local cinemas so you MUST watch it if you're a true Star Wars movie fan. Plus Darth Vader is bad ass again!