I know that China has many beautiful landscapes and they're famed for their all-time-favourite adorable animal, the panda.
I have to admit though, I've never really thought of travelling to China, specifically Sichuan (which means four rivers) - until yesterday. Yesterday, I learned about their famous Sichuan cuisine.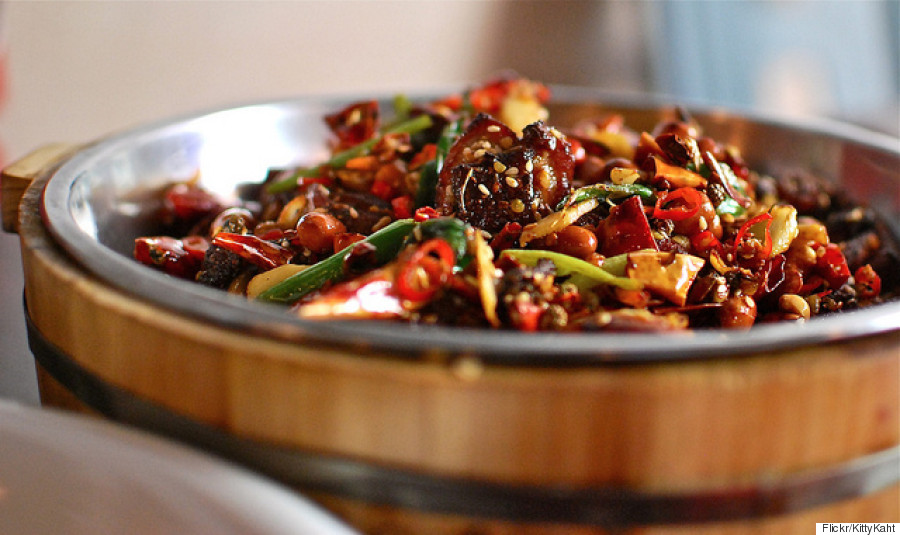 Chuan Cuisine, originating from Sichuan Province in southwestern China, is the most widely served cuisine in China.
The most common flavors of Chuan Cuisine are hot and spicy, "the five fragrances" (Fennel, pepper, aniseed, cinnamon, and clove), other mixed spices, chili and Sichuan pepper (made with prickly ash), and sweet and sour.
But pandas and food are not enough pulling factors to make me want to pack my bags and leave for China immediately. What really made me wish I could get on a plane right now:
Jiuzhaigou Valley, Sichuan, China
Isn't that just beautiful? It makes me want to whip out my paint brushes and watercolours and start painting! Or at least whip my camera out and start shooting!
GEOGRAPHY
Sichuan is a southwestern Chinese province that contains a stretch of Asia's longest river, the Yangtze. The region is the home of giant pandas, which visitors can observe at Bifengxia Panda Base and other reserves. Chengdu, the provincial capital, is a center for traditional Sichuanese opera, which include fire-breathing and sleight-of-hand mask changes.
China's fifth largest province, has an area of 485,000 square kilometers and a population of more than 87.5 million. The terrain and relief of the province descends from west to east, and is bowl-shaped.
CHENGDU, CAPITAL OF SICHUAN
Chengdu
Chengdu has good food, some interesting temples and lovely gardens particularly those associated with Du Fu, one of China's most famous poets. There tea house where local while away the entire afternoon and trendy shopping areas like Chunxi Street and malls with up scale boutiques and Cartier, Zegna and Hugo Boss outlets.
Sights in Chengdu include the Taoist Monastery of Qingyang Gond; the Living Water garden, a natural filtration system for a local river that is now part of a sculpture garden and park; the thatched cottage of Du Fu (western Chengdu); Wenshu Shrine (southern Chengdu), a Buddhist temple complex with several shrines, stele, statues of historical figures and ancient instruments; and alleys filled fortunetellers and fireworks hawkers.
There are street markets between Renmin and Hongxing Streets with dumplings, lychees, blue-skinned chickens and pet crickets for sale. In Wangjianglou Park you can see a lotus-flowered pond, afternoon ballroom dancers and morning tai chi masters. From the River Viewing Pavilion you can see the Jin River. The People's Park is a good place to people watch. The Sanxingdui museum outside of town has an interesting collection of ancient sculptures and masks from Sanxingdu culture.
CLIMATE
The Sichuan Basin has a subtropical monsoon climate. Its unique geographical relief brings a warm, humid, foggy climate with short periods of sunshine. The average temperature is 5-8℃ in January and 25-29℃ in July. The annual average temperature stands at 15-19℃. Weather in Chengdu means rainy days and short periods of sunshine, with more than 200 rainy days per annum. The high-altitude plateau in western Sichuan has a typical plateau climate. Most of the plateau is very cold throughout the year with low but concentrated precipitation, and high diurnal temperature range. This area has plenty of sunshine during the year, with around 2,500 sunshine hours every year. This is in sharp contrast to the climate in the Basin area.
My Top 3 picks if I get to travel to Sichuan one day:
1.Qianwei in Leshan
Imagine looking out of the train window and all you see is miles of yellow flowers. The best time to visit Qianwei which is 250km from Chengdu is in March.
The classic steam train in Qianwei county, southwest of Chengdu, is regarded as 'A living fossil of the Industrial Revolution'. Since it opened to the public in 1959, the steam train became the main transportation for the local villagers. With the railway line of 19.84 kilometers, narrow gauge of 0.76m, and the steam engine driven technology invented by Watt at 18th century Britain, this train appeals to many visitors from both and abroad.
Rapeseed flower blossoming in spring is another highlight at the valleys all the train riding. From March (from 15th to 25th, about 19 days), when the temperature begins to rise, the rapeseed flower blossoms around the fields and the hills. The golden sea of flowers' and pleasant countryside view attract tourists and photographers.
You can take the Leshan Buddha and Narrow Gauge Train 2 Day Tour which includes a visit the thousand year old and the largest Buddha statue in the world, then have a look at the heritage of the Industry Revolution-the Steam Engine Narrow Gauge Train.
2. Hongyuan Grassland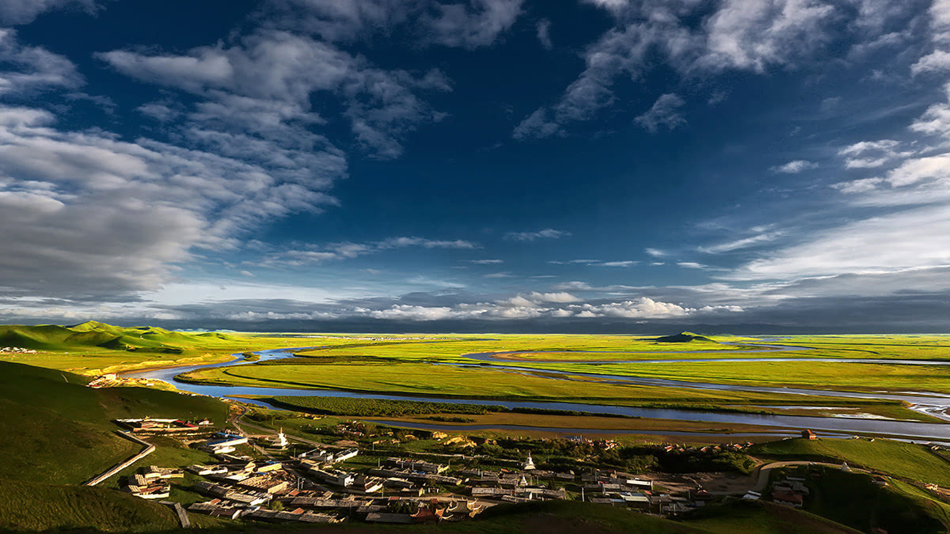 Moon Bay Hongyuan Grassland Waqie
As one of the three wetlands in China, Hongyuan Grassland is known for its marvelous scenery, Tibetan customs and pure Bhuddish culture.
It lies in the central area of Aba Qang Autonomous Prefecture, Sichuan, 490 km from Chengdu and is best to visit during Summer (June to August).
The biggest grassland – Ruoergai Grand Prairie – in Sichuan is located in Hongyuan County and Ruoergai County. This is a place of magic, the home of yak, the world of flowers and the ocean of green grass. In here, the land is flat and the views are extensive; the pasture is lush and the cattle and sheep flocks. What a beautiful place to shoot! Besides that, you can shoot the most beautiful wetland in China – Huahu Lake and the First Bend of Yellow River in Ruoergai County. Langmusi in Ruoergai is the only place to view celestial burial.
To be specific, in summer, from June to August, Huahu Lake is the most beautiful at this time – the grass looks like a green carpet, the flower spread all over the wetland. While from August to November is the best time to shoot the First Bend of Yellow River. The summer grassland is full of green grass, while the autumn grassland adds a flavor of grand and magnificent. Spring and winter are not suitable to visit the grassland for there will be snow everywhere, and the transportation is not convenient and it's dangerous to come. As for Langmusi Town, besides summer and autumn, another good time to visit is the first month of lunar year, for at this time, there will be many festivals and activities in Langmusi and this is the great time to shoot human and ethnic photography.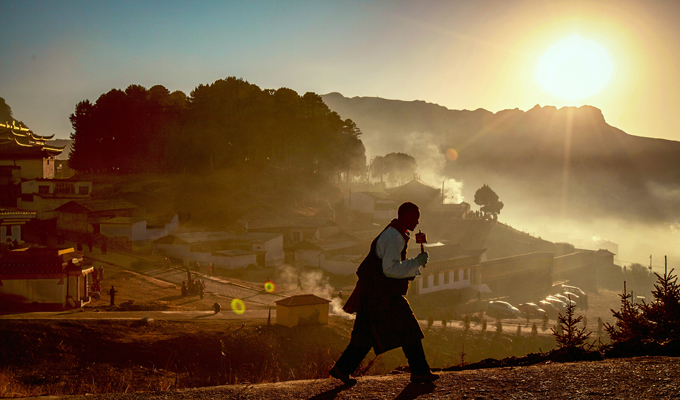 Langmusi
Jiuzhai Valley
Jiuzhai Valley National Park
Jiuzhaigou, the fairy land of the scenic landscape and Tibetan culture, is about 50 minutes' flight from Chengdu (435 km from Chengdu) and its best to visit from late Spring to early Autumn in October. There is a popular saying for travelers: You don't need to see any waterscape after you've seen the water at Jiuzhaigou. Reputed to be the most gorgeous waterscape in the world, indeed, water is the soul of Jiuzhaigou. It is a perfect combination of movement & stillness, a great mixture of clearness & colorfulness. Its emerald lakes, spectacular layered waterfalls, colorful forests, snow-capped mountains, Tibetan villages, treasured Tibetan & Qiang minority culture will lead you to believe that all is alright with the world.
In many ways, Jiuzhaigou Valley is similar to Yosemite National Park in California. Both are formed with valleys surrounded by mountains. Evergreen forests are predominant. Above the tree lines are rocky peaks that are covered with snow in the winter. While, Jiuzhaigou has more creeks, lakes and waterfalls than Yosemite. The plentiful supply of ground water makes Jiuzhai Valley green and its lakes and waterfalls filled all year round.
BRIEF HISTORY
15th century BC~650 A civilization grew and waned near Chengdu and created cities at Sanxingdui and Jinsha.
316 BC The Qin Empire conquered the region.
1273 The Mongol army captured the region and seriously weakened the Song Empire.
1938-1945 Sichuan became the main Chinese stronghold in the war against the Empire of Japan.
1997 A large area of Sichuan Province was carved out to form Chongqing Municipality.
ECONOMY
Average annual income: 17,339 RMB (2,477 USD)
Development: developing; the province is rich in minerals and is a major agricultural region.
Industry: 33.7% tertiary industry (services), 50.5% secondary (heavy industry, steel, electronics), 15.7% primary (mining, agriculture)
TRANSPORTATION
Chengdu Shuangliu International Airport is the air travel hub in the region.
1 bullet train line between Chengdu and Dujiangyan
If you're still not convinced about Sichuan, here's one more photo: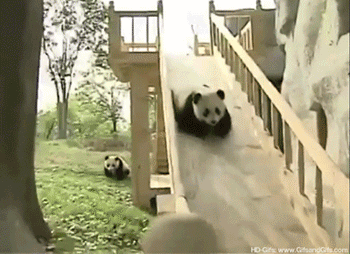 For my Muslim friends, you can check out this
tour agency
(I'm in no way affiliated to any agencies)