A pencil skirt is a wardrobe staple, and can be worn with everything from a matching jacket for a professional look to simple tees and blouses for a casual day out to a frilly top for a night out.
If you are someone who loves looking sexy and elegant, the pencil skirt is a great piece of clothing to dress up and down to any occasion.
1. Wear a Pencil Skirt with a Peplum Top
Virginie Ledoyen wears a pencil skirt to the Christian Dior fashion show.
Photo Credit: Pascal Le Segretain/Getty Images
One of the newest ways to wear the pencil skirt is with a peplum top or jacket. The belted silhouette makes your waist look tiny and plays up an hourglass shape, while the long pencil skirt gives you a slim, tall look. This look is perfect for creating a waist on a boyish figure or slimming a full waist. Either way, it's a chic and glamorous look that never goes out of style.
2. Colorblock with a Pencil Skirt
Katharina Schuettler in pencil skirt - colorblocked.
Photo Credit: Andreas Rentz/Getty Images
Colourblocking came into our fashion books last year. Try a skirt in one color, a top in another for a simple approach to colorblocking. Want to amp it up even more? Add shoes and bag in two more colors. The simple lines and classic shape of the pencil skirt let you experiment with it more than a funkier skirt, so it's perfect for mixing it up, colourwise.


3. The Casual Look
Items from Zalora Malaysia
For a more casual look, wear the pencil skirt with flats. If you want to add some accessories, wear funky, bright jewelry. Avoid elegant pearls and diamonds. Another tip is to keep your legs bare, but if you want something to cover your legs, go for leggings.
4. Wear a Belt with a Pencil Skirt
Aure Atika in belted pencil skirt. Photo Credit: Francois Durand/Getty Images
Tuck in your blouse and add a skinny belt over your pencil skirt like Aure Atika has done here. The addition of a belt brings the focus to your waist and makes it look tiny. Are you curvier? Wear your blouse out and belted over a pencil skirt instead.
5. All Black Pencil Skirt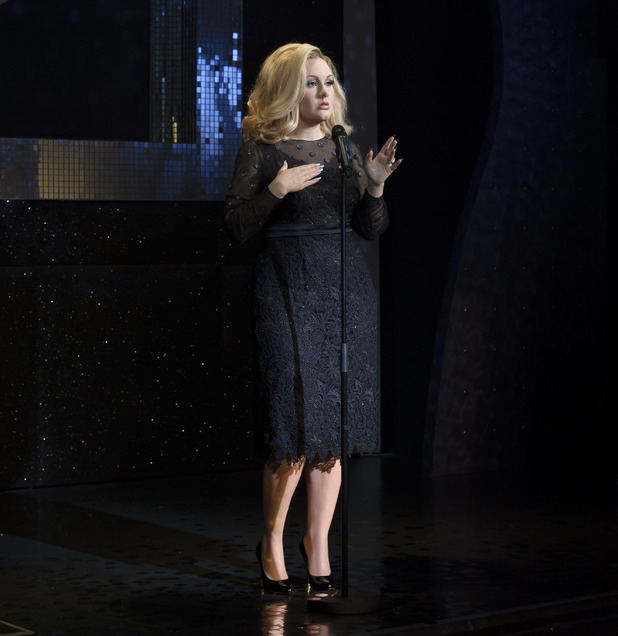 Adele
Wear an all- black ensemble comprising of black pencil skirt and fancy blouse for a night out.
Adele carries this look off amazingly with black heels.
Need more inspiration? Meghan Markle (Rachel Zane) and Sarah Rafferty (Donna) from Suits TV Series (one of my fave shows!) are super fashion icons when it comes to wearing pencil skirts and chic dresses.
Bet you can't wait to start shopping for pencil skirts now!