My parents taught me to love traveling, even if it was for a two- hour trip to the closest beach which was Port Dickson during the weekends. Port Dickson isn't the best beach with white sands, and clear waters. But it brought me many happy memories. We would leave home in the morning and reach in time for brunch. Our first stop would be at a motel where we would have pancakes and fried mee with a view of the sea. The motel sadly closed during the recession in the 1990s.
We would then spend our afternoon under the trees by the sea and when it got cooler, my mum and I would play in the water. My dad, not a fan of the sun, would stay on the beach, watching over our things.
Source: Placeandfood.com
In the evening, we would be famished and hunt for the nearest "gerai" or stall selling local cuisine and seafood. If we had extra mullah, we would have a nice Western Dinner at one of the local hotels - Avillion Admiral Cove was a favourite as we could see boats docked there and the food was good.
Genting Highlands was another favourite weekend getaway. We would usually spend a night at an apartment just below Awana Hotel. We sometimes went up all the way to Genting Highlands by cable car where the entertainment park is. Theme parks are not my favourite thing so we mostly spent time eating, enjoying the cool air with the sight of flowers and just watch people. Once we checked out the 3D shows or Motion Master rides where the seats shake and move along with the scenes unfolding on the big screen. It was super cool! It wasn't too expensive then when they just opened. But after one time, you wouldn't need to experience it again.
Source: mytourpack.com
During the long holidays, in my childhood/teen years, I visited almost every state in Malaysia except in East Malaysia. We would travel by bus, sometimes joining group tours or by car. So you see, now the tradition continues with my hubby. We don't spend much leisure time throughout the year except for our annual or bi-annual trips and these trips mean the world to me.
I really think traveling makes one a better person. Here are 5 ways it does.
1. The best things can come from the worst experiences.
I honestly can't remember of a truly bad experience while traveling except for the time when hubby and I were on our honeymoon in Penang and this guy on a horse came up to us offering a ride. We decided what the hey and got on it, expecting to pay maybe RM10 as the guy kept saying "Don't worry". He helped to take some photos of us using my DSLR camera (which I was worried he would run off with) and in the end we ended up paying RM100 for the 10 minute ride and photos which he took with MY camera.
We didn't want him running off with my camera and I think we were still in some sort of holiday mood ( a dangerous thing) so we didn't protest.
I've learnt that we don't think as clearly when we are on holiday. We usually let our guard down.
After that incident, I've learnt to be more conscious and careful especially when it comes to spending money on things which look nice when on holiday and are completely useless when at home.
2. Travel teaches patience
This applies to traveling with my hubby who brings his work along with him. When I traveled with my parents, we would usually set off early in the morning so that we would have the rest of the day exploring. We had a loose schedule to follow.
Traveling with hubby, however, is the complete opposite. He would start working on his laptop till after lunch time and only then we would start exploring. Of course, when it came to joining tour groups, he would not sleep the night before so that he could join the early morning tours.
Yes, he is a workaholic, but that's what makes him happy so who am I to complain? I still get to travel the world with him which makes me happy.
Besides learning to be patient with your travel mate(s) , you learn to be patient with the situations around you.
In Vietnam, it was a norm for the locals to cut queues to board the plane (and everywhere else). There really is no use to fight as we were not in a hurry and we would eventually get onto the plane, anyway.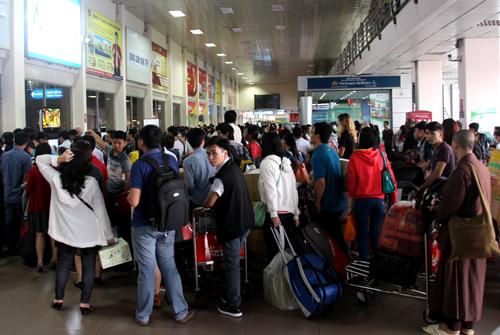 Source: www.bloggang.com
There was also a flight cancellation when we checked-in with JetStar in Hai Phong, Vietnam. Rather than kick up a fuss, we asked if there was a solution or alternative flight and there was. They arranged for a paid-for shuttle to the next airport, 2.5 hours away where we got on the next earliest flight.
It's easy to lose our temper, but being angry does not solve most of the problems we face everyday.
It 's better to step back and see how we can make best of the situation.
3.Travel makes you grateful
Humans complain a lot. They complain about their corrupt ministers, the weather, the poor exchange rates, how expensive dining out has become etc.
I learned to be grateful when I traveled to India (there was a Metallica concert there). In India, you see people living under highways next to lush neighbourhoods where the wealthy stay. You see people do their business in the streets. Waiters are grateful to receive RM1 change. Police with guns board the trains with you. In Brazil, people get robbed at gun point in daylight.
Source:
But with such poverty, you learn to adapt, to make oneself successful so that the family can survive. You learn not to count or depend on anyone but yourself.
In Malaysia, not all things are pleasant for the average Joe/Jane. We have the endless transport problems, the increasing violent crimes, we see how politicians spend lavishly on their personal affairs while the average citizen struggles with daily expenses, our education standards are low and all this makes us frustrated citizens.
But if you learn to depend on yourself, to work around the challenges, you can live the life you want to live. I'm grateful I can still travel and occasionally dine outside. I'm grateful to have a comfortable home even if it doesn't look like anything from a magazine. I'm grateful to live in a relatively safe neighbourhood. I'm grateful I can still buy groceries to cook at home.
4. Travel leads to self-reflection
There was a point last year when I was confused with the business direction I wanted to take. I wanted a comfy future but it meant having to work for about four years building a business from scratch and spending a lot of time in an office.
For those who know me, you will know that I give my 110% when I believe in a project and I'm willing to work 7-days a week for my events business.
When I spent about 18 days travelling around Brazil last year, it dawned on me that I was really lucky to be able to travel without having to worry about deadlines or about reporting to anybody (except my clients who I could communicate with through e-mail). I didn't have to apply for leave as I work for myself.
I realized I'm a better person when I'm not bound by anyone and freedom means everything to me. That helped me make the decision to work on projects that I truly enjoy doing while earning enough to keep my future comfy.
Has traveling made you a better person? Leave your thoughts below.
Liked this post? Please comment, like and share. Get updates in your inbox. Enter your email address below: