Riding cars with strangers. Scary thought, eh? It's nothing new to hitchhike around Europe or the US even though it comes with the risk of hitchhikers being kidnapped or worse- murdered.
Of course, the hitchhiker himself could turnout to be a psychopath. Watching movies like the below definitely paints scary pictures.
Photo credit: www.beyondhollywood.com
Malaysians who are lucky enough to have cars are used to driving everywhere (as I write this, petrol prices have gone down so yippee!) . As I explained in an earlier post, waiting for public transport and being squeezed like sardines during the rush hour, isn't something anybody (except bad people) deserves and not much of an option for me as I rush from meeting to meeting or to events with props in hand, sometimes.
People have many reasons to not want to drive eg fluctuating petrol prices which tend to go up instead of down, the many tolls to pay to avoid jams on regular roads , the idea of going through jams etc.
"What choice do I have, Ms Smarty Pants?" I hear some of you say. Well, carpooling is an option.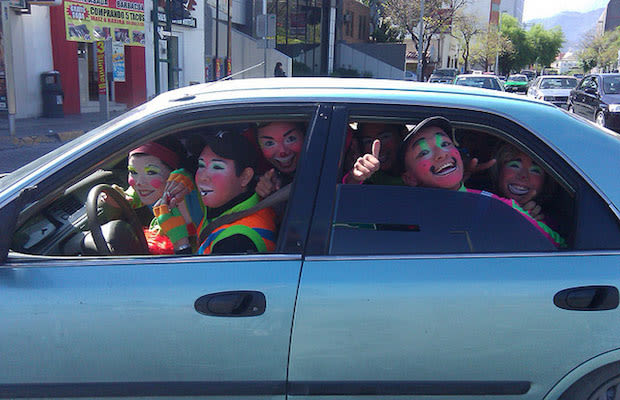 "With whom? None of my colleagues or friends take the same route that I take and I wouldn't want to be kidnapped by some stranger", you retort. I understand your apprehension and so does Tripda.
With Tripda's safety features, you are enabled to make an informed decision in picking the best carpool buddy( buddies) for yourself.
Interested yet? You should be!
Tripda is an online carpooling platform that connects drivers commuting with empty seats in their cars and passengers heading the same way. Their vision is to transform carpooling into a viable transportation alternative, so both driver & passenger can share the cost of the trip, while meeting new people, reducing traffic and preserving the environment!
If you're anti-social and just want a quiet ride, that can be arranged too, as you can choose to ride with people with similar traits.
But I digress.
Back to the safety features.
Besides providing basic personal and contact info, you must also register using your Facebook account, ensuring that every member is properly identified and giving the Drivers and Passengers good social references about the person they are contacting.
All users of the app is encouraged to utilise the Driver and Passenger rating system available in their Website, using a scale of 1 to 5 stars. If a member is rated with negative feedback i.e. 1 or 2 stars, their relationship team will monitor the situation and take the necessary measures to ensure the best experience for all Users.
Tripda will only utilise your info to verify your identity and send notifications when you are planning your trips. They will neither provide nor utilise your personal and contact info for any purpose other than those strictly allowed by you. Their in-built direct messaging system on their Website also allows Users to plan their trips without the need to share private info between them, in an easy and safe way.
Ladies can opt for "Ladies-only" rides and Tripda's latest safety feature is to form partnerships with universities and companies whereby universities and corporate users can validate their university or company email on Tripda's platform. Users then receive a badge on their profile indicating they are part of the respective university or company, which creates and additional layer of trust when selecting the right carpool buddy.
What about charges?
The app is completely free to use. Any financial transaction is solely between driver and passenger (s) whereby the passenger contributes towards the driver's costs.
Tripda's system calculates and recommends a fair contribution cost taking into account travel costs eg petrol and toll costs.
There is some flexibility to adjust the price up or down, but there is a cap that prevents drivers from overcharging their passenger(s) for the ride. The passenger then pays the driver directly, in cash, so as to share the costs for the trip.
Excited to try it out? You should be!
Tripda's Facebook page is swarming with activity and in the spirit of celebrating Chinese New Year, they are having massive giveaways to make February a prosperous month for everyone! Carpool with Tripda in February to WIN TGV Movie Packages Daily, 88x RM88 worth Petrol CashCard & their Grand Prize - 3x Xiaomi Redmi Note 4G! Yes! Carpool with Tripda this prosperous month and WIN amazing prizes!
Check it out NOW: http://promo.partners-tripda.com.my/
Hurry though, as it's limited to the first 88.
Tripda website: http://www.tripda.com.my/
Tripda mobile app available on iOS and Google Play
Tripda Facebook page: https://www.facebook.com/TripdaMalaysia
Tripda instagram + twitter handle: @TripdaMY for both
Hashtag #TRIPDAblogawards
C and I carpooling to an event